Community of L'Anse Amour
The placename L'Anse Amour is a corruption of the historical name Anse aux Morts. At some unknown time in the past the "Cove of the Dead" became the "Cove of Love".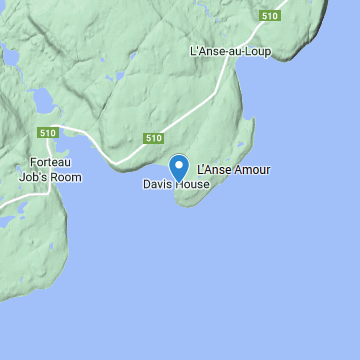 The history of L'Anse Amour is intertwined with that of nearby Point Amour lighthouse. Built during the 1850s by the Province of Canada (today's Canadian nation was formed in 1867), the lighthouse was to serve a new trans-Atlantic steamship route through the Strait of Belle Isle. A wharf was constructed at L'Anse Amour and a roadway cleared to allow the delivery of materials and supplies to the lighthouse site.
L'Anse Amour continued to serve in this capacity after the lighthouse was operational. A few families choose to live permanently at L'Anse Amour. Present-day members of the Davis family trace their history to this time.
"... coal [for the lighthouse] was hauled by horse and cart from nearby L'Anse Amour. Workmen made as many as eight trips a day and were able to carry a ton of coal in each load. One of the first schooners delivered a load of of 75 tons in 1878."
From Just One Interloper after Another, p. 71.
In 1922 the British heavy cruiser HMS Raleigh went ashore between Point Amour and L'Anse Amour with its complement of some 690 officers and crew. Aided by local residents from L'Anse Amour and the lighthouse, all but a dozen men were rescued. In recognition of their efforts to care for the Raleigh's crew, England's King George V granted the land at L'Anse Amour to the Davis family.
Today there are three year-round homes at L'Anse Amour along with work buildings and summer places. In July 2022 the road through L'Anse Amour to Point Amour was upgraded and is scheduled to be paved later in the year.