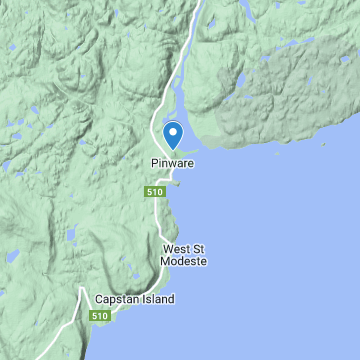 Pinware is located in a small cove formed by a headland near the mouth of the Pinware River. The largest river in the region, Pinware River flows through a well-wooded valley enroute to the coast and is rich in Atlantic salmon and trout.
The name "Pinware" is a corruption of the French name Pied Noire, meaning "Black Foot". A stream named Black Rock Brook flows in to the cove, and at the streams outflow is a large black rock that resembles the shape of a human foot.
The French established seasonal codfish, salmon and seal fisheries at Pinware early in the 1700s and this continued under English control after the region was ceded to England. In 1856 the full-time population at Pinware was 12, which grew to 156 by 1966. Residents at Salmon Point (at the mouth of the river) and East St Modeste (on the river's far shore) resettled to Pinware in the 1960s.
Today the cove has a breakwater and wharf that form a small boat harbour, a community centre and two retail stores.